"We had to ensure that our customers knew we were going to continue supporting them."
2020 turned out to be far from normal. From one day to another, all focus was put on keeping our equipment running so customers could diagnose and treat patients in the emerging COVID-19 pandemic.
The onset of the pandemic meant that hundreds of hospitals and clinics throughout the UK and Ireland didn't know if they were able to get vital equipment installed and maintained – in a time more critical than anyone could remember, when nobody knew just how many patients with COVID-19 would need diagnosis and treatment and when it was absolutely crucial to ensure minimal downtime for scanners and other machines.
Dan Moss, Region Service Sales Manager for the UK and Ireland clearly remembers the days in March when routines and normal practices were turned upside down almost overnight. 
"Could we just stop our service and maintenance in the middle of a pandemic? Of course not. We had to ensure that our customers knew we were going to continue supporting them. It was the right thing to do."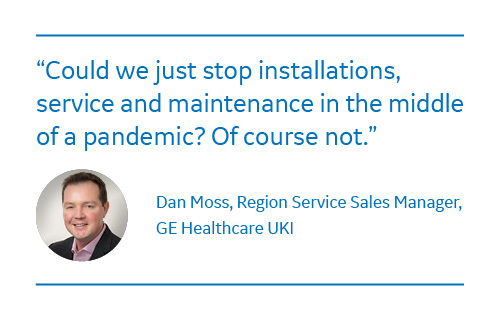 With CT critical in the fight for COVID diagnosis, Jersey General Hospital in the UK, were desperate to get their CT installed back in March when the COVID situation started to escalate. 
"I was delighted to hear that you were going to reward the two engineers (John & John), who attended our relocatable site in Jersey. The situation in Jersey was getting near to a point where we were in lockdown, so they could have both ended up in quarantine on the island for two weeks or longer. I would like to say on behalf of the Radiology staff, the General Hospital and indeed the whole Island of Jersey how immensely grateful we are to John [Sinclair] and John [Breen], for the way in which they conducted themselves both professionally and with some humour considering the short timeframe they had to install our second scanner. We now had resilience and a scanner to dedicate to COVID-19 patients. They even found time to replace a part on another scanner (our main Revolution™ CT)" said Angus Fitchet from CT Scanning, Jersey General Hospital.



The CT scanner, Revolution EVO, in the relocatable in Jersey General Hospital dedicated to COVID-19.

In another part of Europe and just before the borders closed, five service engineers took on a job in the Netherlands and worked until the last minute to get InHealth's mobile MR trucks ready to use. As the pandemic was taking its hold, the team wanted to get the job done, borders were closing, there were no places to eat, and scheduled flights reducing. They made sure the MR's were in the best position possible, before getting home on the last flights to their families. After the installations, the mobile MR trucks was sent to InHealth in the UK. InHealth work in more than 300 hospitals and community based medical centers all over the UK and provides MRI service among others for mobile, relocatable or fixed sites.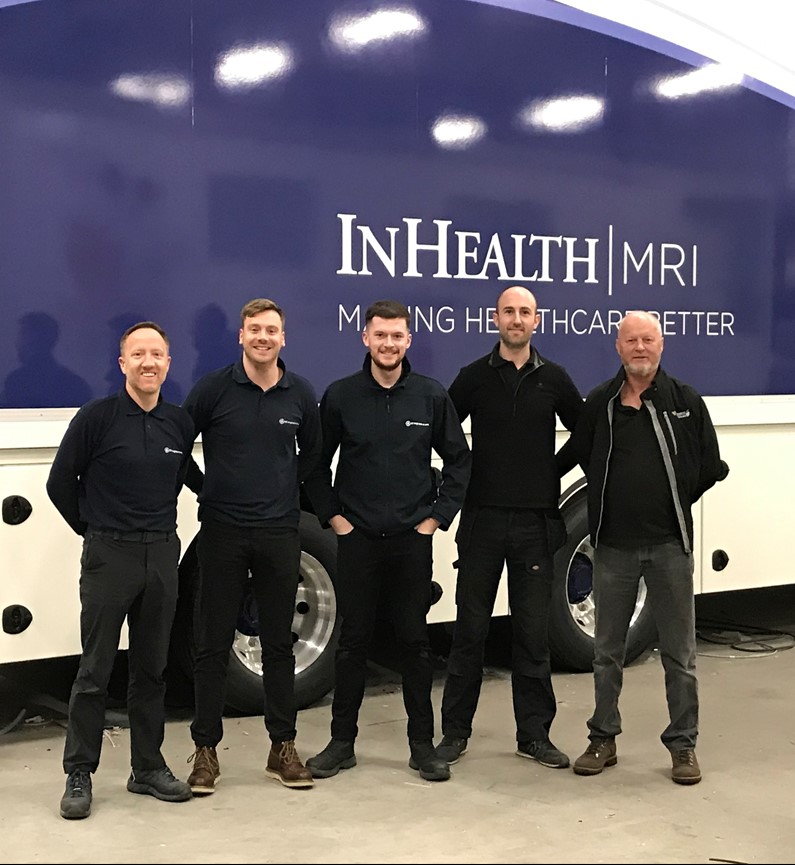 Just before the COVID-19 lockdown kicked in – 5 engineers, Chris Copper, Adam Pannell, Liam Wattis, Shaun Megee and Robbie Cooper from GE Healthcare UKI, were working on mobile MR installation for InHealth in the Netherlands.
"The last thing you want is an unscheduled event where the system might be down for a couple of days, when the customer is scanning for COVID-19."
Working from home just wasn't an option for the engineers out in the field doing the actual maintenance and making sure that the doctors had scanners working properly at their disposal. But how do you visit a hospital for installation or maintenance work in the middle of a pandemic, avoiding being infected or risking infecting others? Dylan James, Director of Service at GE Healthcare in UK, explains:
"Obviously, when something as unexpected and unknown as this happens, there is a lot of stress in the beginning. Many customers didn't have time, really, to contact us and let us know what to expect. So sometimes we didn't know what their need was before arriving on site. We had to be prepared for that and to be able to react quickly – while at the same time making sure that our engineers were properly protected and that they felt safe."
"Some customers said: 'We don't have time for you to come and do periodic maintenance right now' and we would then find another arrangement for that site. But we also made it clear that from a technical perspective, the best way to achieve maximum uptime is regular and preventative maintenance. The last thing you want is an unscheduled event where the system might be down for a couple of days, when the customer is scanning for COVID-19. In the end, we didn't miss a single service."
"The picture could be changing by the hour."
Hospitals still needed to be served and their equipment covered more than ever during the Corona crisis in order to optimize uptime and allow them to look after their patients. One key factor for ensuring this is the availability of comprehensive and detailed information.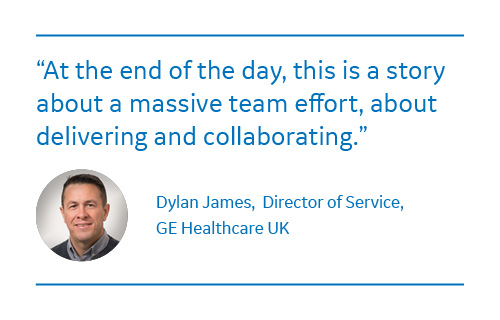 "The situation was complex: we often found very different demands at the different hospitals and sites. The feedback from our field engineers was that every hospital and every department did something different. So, we asked our service managers from all over the UK to gather as much information as possible in order to paint a picture of what we were seeing and how we could react to the demand and situation. The picture could be changing by the hour."
"Our engineers did a fantastic job during a very hectic time and are the true heroes of all this. They are the kind that thrive on making sure that our systems in the hospitals are working properly in a very difficult time. And the more information we can give to our engineers, the better they can perform. An important learning that I take with me is to focus more on information and communication – how to get, collect and distribute more relevant information to the relevant people more quickly. We did well, but we should still try to do better," says Dylan James.
"At the end of the day, this is a story about a massive team effort, about delivering and collaborating. The way our service teams adapted personally – going from a 20-30 people strong team in the service center to being dispersed out to their houses while serving customers and making sure we didn't drop the ball. And the way that the engineers worked day in and day out throughout the whole peak. I think it just demonstrates the level of dedication our teams have."