As the COVID-19 crisis started to have a real impact in the UK, GE Healthcare was approached by the supply chain section of National Health Service England, (NHS). The message was as unmistakably clear as it was completely unheard of: We need you to deliver as many ultrasound systems as possible, starting with 160, as soon as possible, preferably within two weeks. Can you do that?
"A request for that number of ultrasound systems delivered in that timeframe was completely off the scale, not only for GE but for the whole of the industry," said Jon Robinson, Segment Manager for Point of Care Ultrasound at GE Healthcare in the UK and Ireland.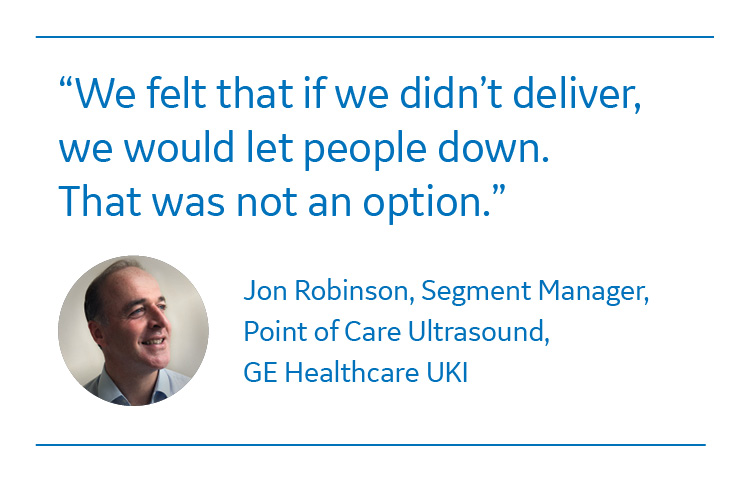 When the NHS called, it was Jon who was appointed by Roy Tappin, General Manager for Ultrasound at GE Healthcare in the UK and Ireland, to lead the GE Healthcare task force.
"We never dreamt for one moment that we would be tasked with providing that many systems that quickly in the middle of a global pandemic. It would be easy to feel overwhelmed. But to be honest I feel more overwhelmed now after having gone through that process. At the time we just had to pull ourselves together quickly as a team. We felt that if we didn't deliver, we would let people down. That was not an option."
Even though the initial 160 systems seemed off the scale, the number soon grew to 520 and eventually to 787 systems. Ultrasound is a crucial tool in the fight against COVID-19 where patients typically are displaying symptoms related to respiratory infections and where the need is to scan the heart as well as lungs.



"It wouldn't have been possible without good relationships. Trust doesn't just happen overnight."
However, it wasn't just a matter of getting the number of systems right, but also of getting the systems calibrated the right way, Roy explains.
"In the beginning, the NHS wasn't sure about the specific clinical requirements needed for the systems. They were relying on our expertise and guidance in the process of identifying the best specifications for the systems. It's a huge responsibility, and I don't think that would have happened without the ongoing and professional close working relationship we have had with the NHS supply chain for the past 10 years or so. Trust doesn't just happen overnight. They were confident in our ability to deliver systems that were clinically prepared and could go straight into use from day one. Long term relationships are key if you want to be prepared for the unexpected."
"From the beginning GE have been brilliant to work with, positive and proactive in a constantly changing situation. Consistently delivering on their commitments, including some very last-minute requests; nothing was too much! A huge number of systems delivered in record time, a massive achievement by all involved," says Jenny Rayne, Senior Buyer Women's Health, NHS Supply chain and continues:
"As the Ultrasound allocation model progressed, GE worked with us to set up processes which ensured Trusts were able to receive the systems they requested, moving quickly and adapting to the changing requirements of the project. There were some frustrating times along the way but our excellent relationship with GE made this much easier to manage."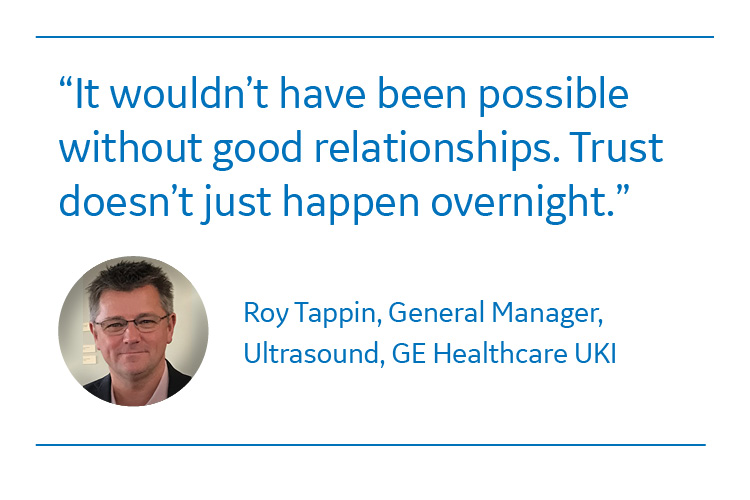 "The biggest problem was the breakdown in freight and airline logistics that effectively just stopped at one point."
The power of relationships also proved vital when starting to contact all the different stakeholders across the supply chain – from production plants to transport.
"Within the space of a week, our team had set up an ultrasound hub in partnership with our colleagues at GE Power in Rugby, UK. This enabled us to configure and ship the systems so that physicians could start using them straight away. It wasn't easy. It was a matter of being in meetings constantly or on the phone with someone from GE or with external partners. It was a crazy puzzle! It wasn't just about problems with key components not being available, with breakdown in supply chains, or difficulties in manufacturing centers around the world. The biggest problem was the breakdown in freight and airline logistics that effectively just came to a halt at one point." 
"So, what do you do? I had bad dreams at night speculating if systems would arrive in time, if we would get all the bits and pieces we needed, even down to the simplest things such as a power cord. But in the end, we were again helped by our relationships, by the fact that we have invested in our network and optimized our supply chain over many years. That has really been an important lesson for me," says Jon.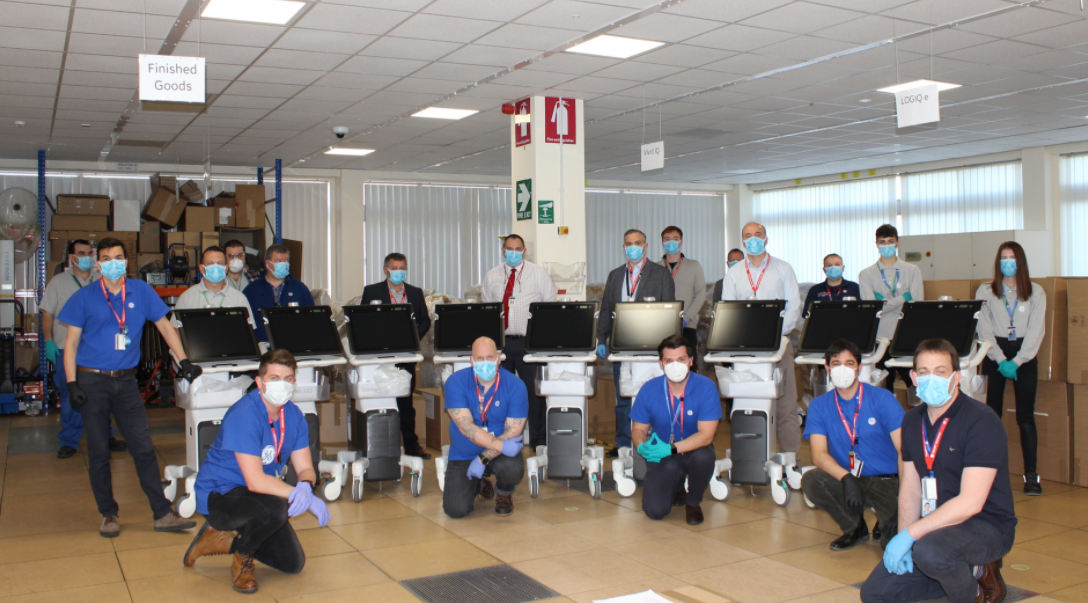 GE Healthcare and GE Power employees who worked together to get the 787 ultrasound systems
ready for Britain's National Health Service.

"As a result, everybody rallied around the project and made it possible."
Starting with 6-7 persons, the team quickly grew to nearly 50 people directly involved in the project. A milestone plan listing every deliverable needed within each milestone was put in place. And then executing through daily, sometimes hourly, routines to make sure to every task was taken care of, and then tick the box and move on. From Roy's perspective it was important to build this team effort on a clear set of values.
"I remember the reaction on one of the first group calls when I announced that we had to deliver no less than 160 systems. The reaction was Wow! – And as the number then grew during the next weeks to 520 and then again to 787 systems, I also made it clear, that if we had to go back and tell the NHS that we could only deliver 600 systems, then that was what we would do, because trust is perhaps our most important asset." 
"As a result, the team spirit grew even stronger and everybody rallied around the project and made it possible to deliver all 787 systems – fully configured and ready for use at the bedside by the physicians within 10 minutes of being unpacked. I think we can all be proud of that. This was a team effort, teamwork matters and so does open and honest communication between all parties, no matter if the message is a good or a tough one. I guess we knew that already, but perhaps we all know it a bit better now."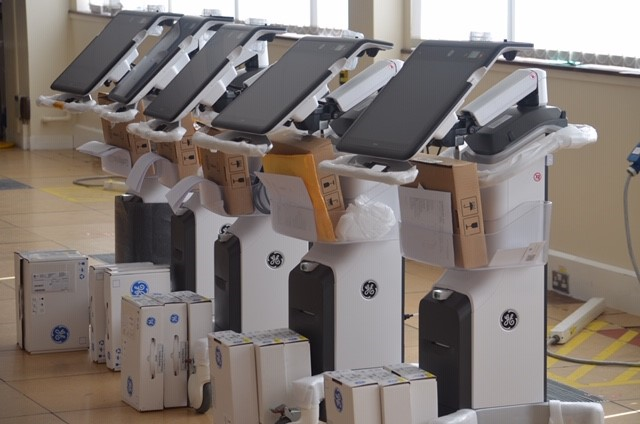 Venue™ systems assembled and ready to be shipped to Britain's National Health Service.


"We were given fantastic support by GE during our fight against COVID-19. The brilliant design of the Venue machines that we received allowed us to deliver point of care diagnostic and procedural ultrasound using state of the art technology and AI", says Dr Redmond Tully, Critical Care Consultant at the Royal Oldham Hospital.
"The Vivid IQ machines allowed us to see the cardiac condition of critically unwell COVID-19 patients in great detail due to the amazing image quality that they produce. The systems were quickly and efficiently set up and delivered to us when we needed them most and as ever we were given great support by the whole point of care team."



"We've learned that strong remote support is very important."
But the job doesn't end here, Jon adds:
"Delivering all these systems is the start of the journey, not the end. We now have an obligation to look after these new installations on top of the ones already in use at the NHS, and this involves using digital tools to expand our education service and support even more."
"One thing that we really learned during this process is how important remote support can be, and we worked hard to find new ways to improve the support. As a simple example, we decided early on to attach a QR code sticker to every product. This was a good and easy way to guide the doctors, via their own mobile phones, straight to a webpage with all the relevant information, tips and tricks and even videos explaining how to use the ultrasound system in the smartest way. This was received enormously well."
"I think that the COVID crisis has really accelerated the power of easy-to-use, digital remote support. And on a larger scale, digital tools will certainly also be an asset we should use more to educate and provide our customers with good, timely and easy-to-use information," Jon says.